The sixth presentation in this series.

In the summer of 1937 the Thompson family is still on the farm, but they are busily packing up for a big move to temporary rental accommodation in Calgary.  Belle and Will are both determined that their two daughters, Doris and Marjorie, get good educations.  While Marjorie finishes her Grade 8 at the one-room country school, Doris takes as much of Grade 9 as is available by correspondence.
Will commutes back and forth as the farm work permits.  He also oversees the building of a new home.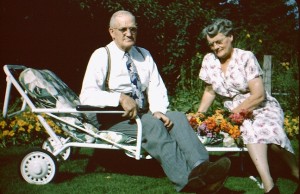 This turns out to be their home together until his death on February 13, 1956, days before his 70th birthday.  His marriage to his beloved Belle has seen 38 years.  She is 66 years old.
Belle is disoriented after Will's death.  Sad, tired, and grieving she strives to go on.  As her strength returns and her spirits begin to climb, she realizes that only she can build her future.  Calling up all the reserve she can muster, she starts to plan.
Sheldon Gibson, her son-in-law, is the one she turns to for driving lessons.  When Will quit farming and retired to the city, she stopped driving.  Now she needs that skill again.  Slowly and steadily she gets on with the business of living.
Belle loves to travel.  In due course she decides to take a trip to Europe, England, Hawaii, and New Zealand.  Her family doesn't hear from her for a while, but one day a telegram arrives from Hawaii.
NOT BROKE BUT BADLY BENT STOP SEND 500 DOLLARS STOP
Not having a sum like that lying around, Sheldon goes to his bank, borrows the money, and wires it off to his wandering mother-in-law.  After a while she returns, glad to be home and full of stories of her wonderful trip.  Belle promptly repays her obliging son-in-law!
The years pile up, but Belle remains young at heart.  When she is diagnosed with diabetes at eighty-three, she is shocked at first but recovers quickly.  The doctor insists that she wear a bracelet which indicates her condition.  Belle is not pleased but finally agrees.
Shortly afterward her daughter says, "Mom, you're not wearing the bracelet."
"I certainly am!"
"Where is it?  I must be blind."
"Pinned to my corset.  If anything happens to me, the ambulance people will find it!"
The debate ends there.
Of course, no life can go on forever.  On June 12th 1975, at the age of 85 she dies, after a year-long struggle with cancer.
Postscript

With Belle as a mother, and Will as a father, I was gifted with parents who enriched my life in every way.  The memories of them live on in my heart, and forever will.
In sharing some of these memories I have skipped along from one incident to another, revealing episodes which highlight her personality and the morals that guided her life.
A reader of these stories complained, "This woman is too good to be true.  Didn't she have any faults?"
This remark caused me some amusement and head-scratching.  I scan my memories with that question in mind.
Belle was sure of herself, but she wasn't conceited.  She had a well-defined need to be dignified and she was always careful not to look ridiculous, but she loved fun.
Her grandchildren delighted her.  As they grew up they formed their own relationships with her.  She was fun to know and be around, and they all felt and appreciated her interest and support.
On the other hand, I do think that her fear of tiny garter snakes, mice, or wee frogs was ridiculous in a full-grown woman!
In short, Belle wasn't a noted public person, she was just a good woman leading a worthwhile life.