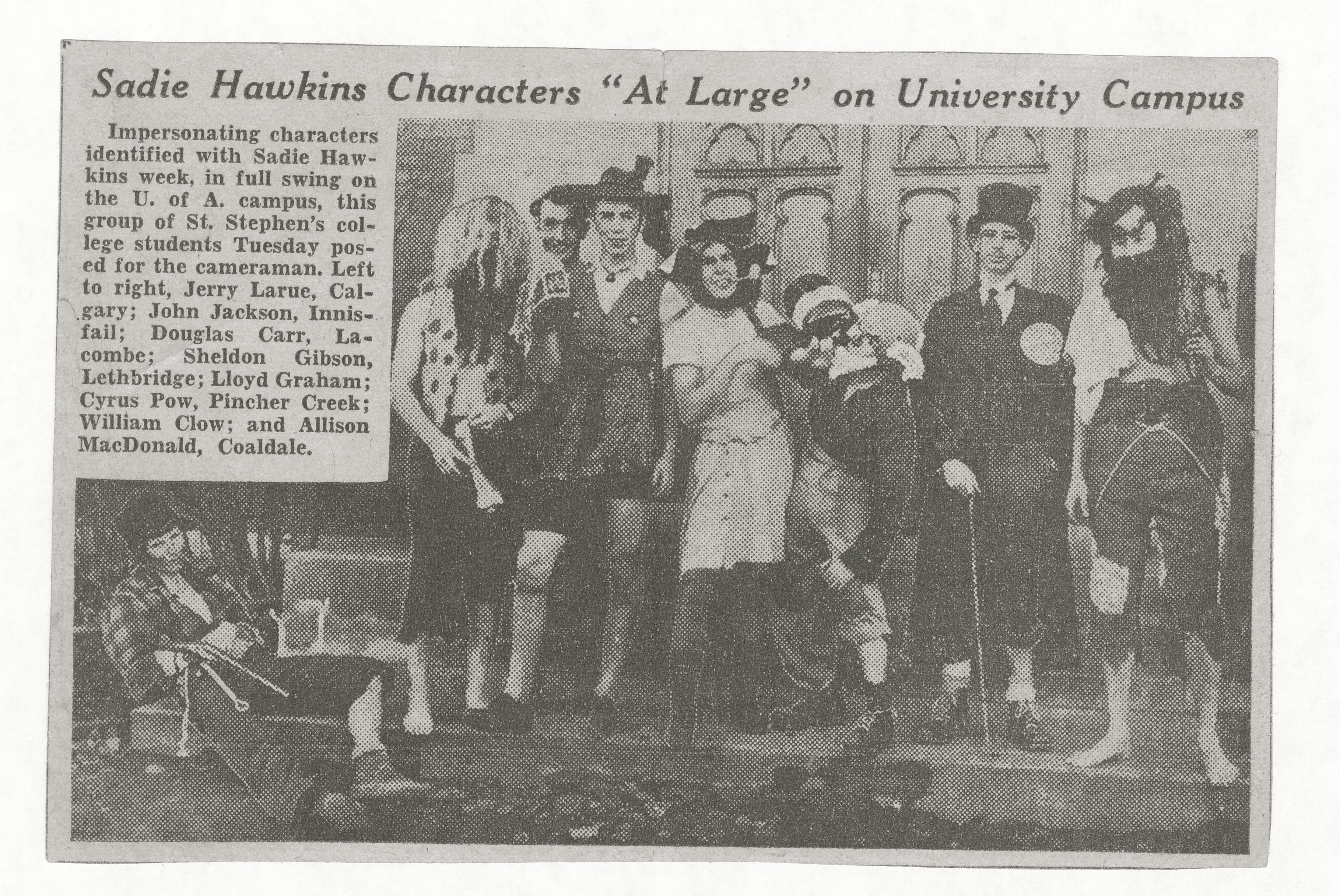 September 1940, and back-to-school time – but what a difference this year. We're in Edmonton, in order to go to University. My sister Doris and I arrived a few days ago, and are living at Pembina, the women's residence. She's nineteen, and I am eighteen. We feel very grown up, but a bit scared too. Everything is so new, and so different.
First the business, the official registration. We fill out papers, choose courses, and follow directions until our heads ache. Classes start right away. We have to learn where the right buildings and classrooms are. Advice is coming from all sides. On top of everything there are signs everywhere announcing that this is Frosh Week, with special, not-to-be missed events. What in the world is Frosh Week?
No time to find out, we are due back at Pembina for a meeting with the Matron. She runs the place. All the new girls–the Freshies, as we're called–go to Miss Gregory's special meeting room. She gives us a serious talk about the dangers of alcohol, how to dress and behave properly, and the house rules which all residents must obey. For example, curfew time is 10:30 PM, for evening engagements of any kind. If we fail to make it on time, we lose our permission for evening dates "until further notice." Seems rather juvenile to me, but there it is. The older student residents keep sneaking us information about how to get in after hours, without being caught!
What's a new gal to do? Getting "properly" dressed, and putting on white gloves as well, just to have tea with the Matron, does not qualify as fun! Not knowing what Frosh Week is all about makes it hard to choose what to do.  
As the Freshies in Pembina chew this over, we get a break. The University student paper carries a picture and a short write-up about some students at St. Stephen's College. They are freshmen, and are entering into Frosh Week with gusto. The theme for this year's Frosh event is "Sadie Hawkins Week", after the cartoon strip of the same name. The rules given for this week are that a Freshie may ask any male student out for a date, the man must accept, and the woman picks the place and pays the bill. The idea is intriguing, but daunting. But this newspaper article – here's our chance.
Our recreation room buzzes with excited conversation. Finally we have eight girls willing to go for it. After all, the students are from St. Stephen's College,  a residence for theology students. Surely guys, many of whom are heading for the ministry, but who still have the nerve to dress up like Sadie Hawkins characters, must be both trustworthy and fun!
That settled, Mary is elected to call St. Stephen's and invite the eight young men named in the newspaper story to join us for a coffee and doughnut date at the Tuck Shop. She instructs her contact to gather his group and meet us at 3PM on Saturday in the rotunda of the Arts Building. We did not tell them our names, but said we will arrive and introduce ourselves.
In the past few days our group of eight Freshies has done a lot of guessing and laughing. We finally decide to just walk in and go up to anyone who takes our eye, pair up, and all head for the Tuck Shop. I must admit there is one I have seen before. His name is Sheldon Gibson. I saw him for the first time this past week, when he was asking Doris to go to the Tuck Shop for coffee. Later she told me they were in Grade 12 together in Calgary. When I asked her what he was like she replied, "Nice enough, made very good grades, but I hardly know him."
I decide to say no more.
The big day comes, and we all feel a bit nervous as we head across the campus towards the Arts Building. I am walking with Doris and finally say, "Who are you going to ask to be your date, Doris – will it be Sheldon Gibson?"
"No. I'm interested in meeting someone new. I'll take a look when I get there."
"Fine with me, Doris. In that case, I'll take him." And I did. He is easy to talk to, and it goes well. I hope I see him again.
Little did I know then, but see him again I surely did. We had a casual, easy relationship from then on. In those days young people could, and did, have several friends of the opposite sex. Most young people eventually settled down to one. So it was with us. Before I finished my third and final year we were committed to one another. Two years later, when Sheldon graduated, we married, and spent the next 65 years together. Little did I know when I said that day, "I'll take him," that I was choosing for a lifetime.