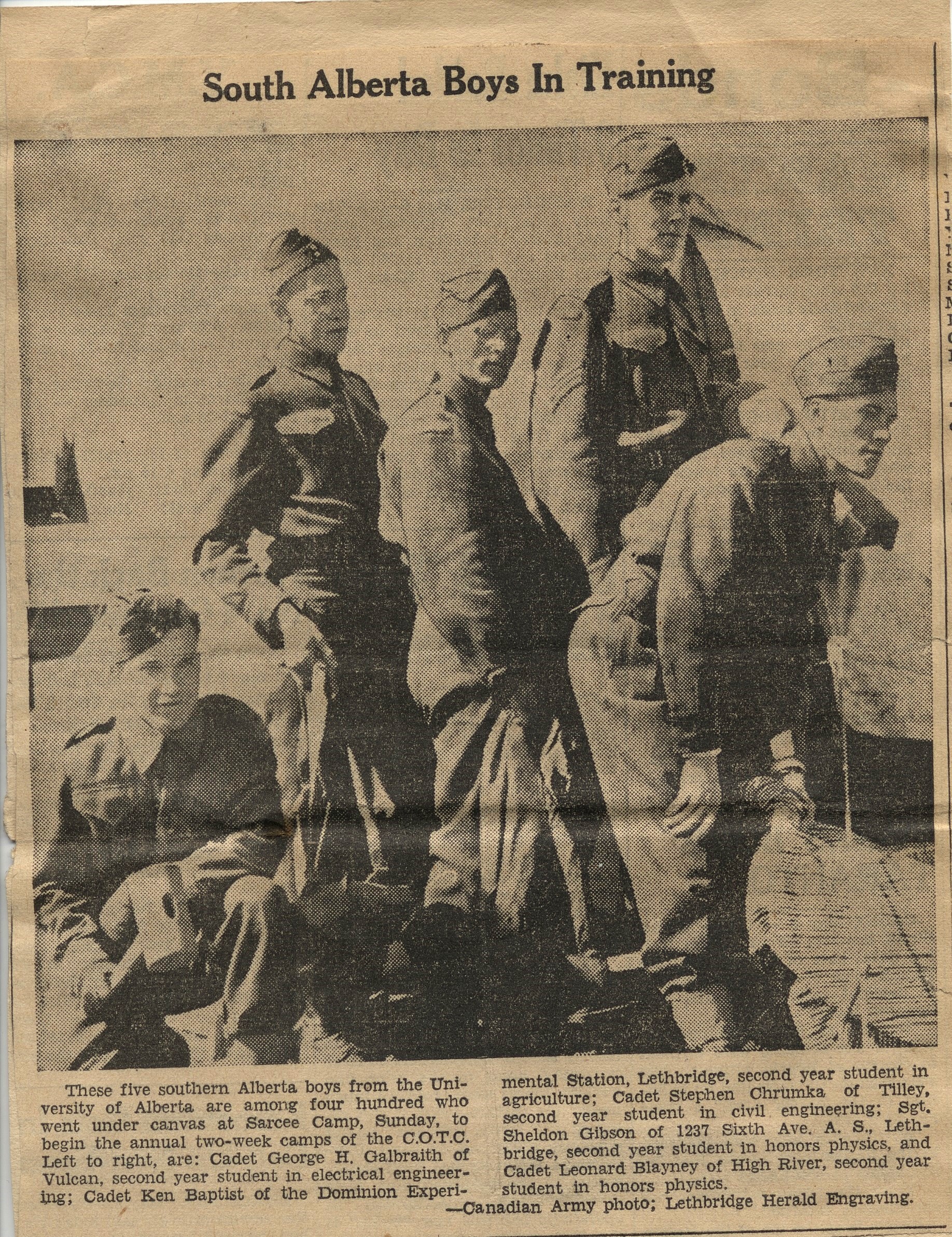 The summer break is flying by.  My final exams at the University of Alberta ended on May 20th.  Registration for the fall term is September 7th.  That doesn't leave much time to earn money for the next school year.
I'm lucky: Dad needs help on the farm.  With this war going on, available labour is scarce.  Part of my job is keeping the house livable, and making meals.  The other part is driving the tractor and pulling whatever farm implements Dad wants to use.  I'm a novice at both, but do my best.  Dad is patient and good natured.  We enjoy our days together.
The men who are students have a lot to handle.  As well as their university courses, there is the C.O.T.C., the Canadian Officer Training Corps.  Those who are physically fit are automatically enrolled in the C.O.T.C.  This adds obligatory military duties, such as training to use guns, marching, and classes.  Then when summer comes they must attend the Sarcee Military Camp for two weeks of further training.  In the time left they can work at civilian jobs to earn money for the next university semester.   
Sheldon gets two weeks of leave from his job with Imperial Oil, because he must go to Sarcee.  He takes his army training seriously.  His picture in our paper makes me proud, but scared too.  This war is so terrible. I wish people would not say mean things about the C.O.T.C. boys.  I understand that families with boys already overseas might resent able-bodied university students who are safe at home, but don't they understand that the military is training these young men to fill positions the army needs?  Their turn will surely come.
Dad and I came to Calgary last night, to spend the weekend with Mom and Doris.  Sheldon knows I'm here, and will get in if he can.  Finding a phone without a long waiting line is a problem.
Sheldon is here!  He arrived on his second-hand bicycle just in time for lunch.  Most of the afternoon is ours.  We visit, laugh, go for walks and for banana splits.  Then comes the time for him to leave.  It's hard to see him go.
As he kisses me good-bye, he says, "Keep your fingers crossed, Marjie, I'm a little late in leaving.  Will have to hustle to get to camp before my leave time runs out."
"What will happen if you're late?"
"Don't know for sure, and hope I don't find out.  The military can be tough if their rules are not obeyed."
"Sheldon, let me know when you can.  I'm so worried."
"When I get there, and can find a phone that is free, I'll call."  With that he is gone.
It's a bad night, followed by a bad morning.  I am keeping busy helping Mom in the garden.  She thinks I'm quiet because Sheldon is gone.  Little does she know my worries.  The phone is ringing!
"I'll get it, Mom," I call, and run for the house.
"Hello?"
"Marjie, is that you?"
"Yes. What happened?"
"Close call, but I made it . . . scot free . . . can't talk now, no privacy."
"Sheldon, be careful! Love you, bye."
After the weekend, Dad and I go back to the farm.  I don't see Sheldon again until we meet in Calgary.  He is finished the Sarcee course, and is heading back to the Imperial Oil seismic crew.  We have lunch with Mom and Dad, and then go out for a walk.  As soon as we are out of sight and earshot I grab his arm and shout, "Talk!"
He is laughing so hard he can hardly speak, but finally gets control of himself.
"I really pushed the pedals, Marjie, and made good time.  It only took me an hour to get in sight of the Sarcee Camp gates. Suddenly I saw a car from inside the camp heading out.  Well, I figured it didn't matter who it was, I didn't want them to see me.  It was too close to my leave time running out."
"Good grief, Sheldon, what did you do?"
"The ditch beside the road was deep.  I wheeled into it, pulled the bike out of sight too, wiggled into the weeds, and held my breath!  They sailed by.  Sheer luck, Marjie.  I hustled, brushed the weeds off me and the bike, and made tracks for that gate and into camp."
"Did you make it in time?"
"Close enough that no one cared.  I wasn't very bright in the class we had to attend after supper.  It was beginning to sink in how close I came to really messing things up."
"What do you mean?  You made it, and didn't have to explain to anyone.  Why is that so bad?"
"Marjie, it was a really dumb thing for me to have done.  Just think – If I'd been caught I might well have been in trouble with the military, maybe the university, and Imperial Oil.  Your parents would find it hard to accept.  And you."
I'm crying.  "Sheldon, I love you, it would not change that."
"I know, but I would have to build your trust again.  Think about it – much better to avoid making trouble, than to try to fix it after afterwards.  I'm an adult.  I have brains.  Much better to use them than to rely on luck.  Just believe me, Marjie – I've learned a big lesson."
With that he pulls me into his arms.  We kiss, then run down the street like a couple of kids.  As we near the drug store with the snack bar, we slow down.  Casually we stroll in, climb up on stools at the snack bar and Sheldon orders.
"Two banana splits, please."
The jukebox is playing one of our favourite songs, "I'll get by, as long as I have you."  The sun is shining, and all is right with my world.  This too, I realize, is a day to remember!